Music Generation
Scoil Phádraig Naofa has been a member of the Music Generation Carlow Family since 2014/15.
As part of our commitment to encourage and support participation in the arts we offer this exciting and progressive programme free of charge to two class groups each year.
Tin Whistle
Our boys enjoy the opportunity to learn an instrument free of charge.
Boys from 1st-3rd class are taught tin whistle. We eagerly await their performance at Christmas.
Playworks
Playworks helps schools create a place for every child in the playground to feel included, be active, and build valuable social and emotional skills. Playworks is an S.N.A. led programme (under the direction of the school principal) which is supported by Junior Coaches. The underlying philosophy of Playworks is overwhelmingly positive with the emphasis on participation, encouragement and empathy.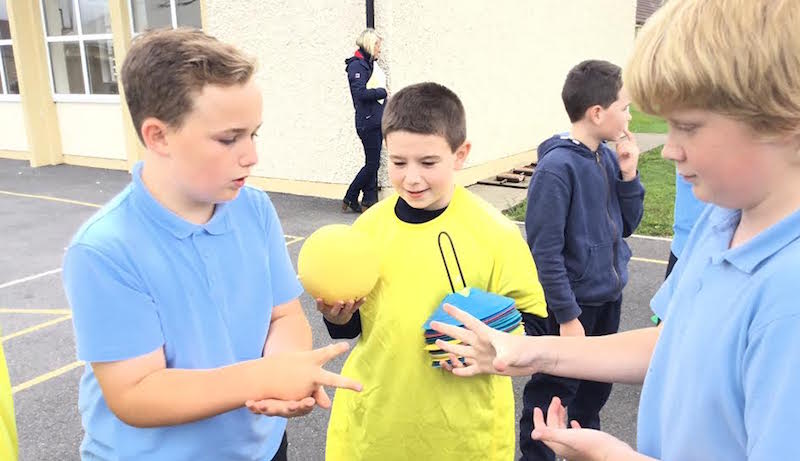 E-Twinning
E-Twinning is an exciting Europe-wide initiative. We are partners with a school in the Netherlands for an e-twinning project this year. Watch this space for more details…
Green Schools
Scoil Phádriag Naofa was on of the first schools in Co Carlow to be awarded the green flag way back in 2004. We are currently working towards our 7th green flag.  The themes for the 7th green flag are litter and waste and global citizenship.  We hope to apply for the next flag before the end of next year.  We recently elected a new green schools committee.  The new committee will be working hard to keep our school environmentally friendly.  We do our best to involve our whole school and our greater school community.
Herb Garden
We were delighted to accept the gift of a 'Herb Patch' and set of lessons from local herbalist Jacqui Burgess last summer. Our herbs are really flourishing in their patch outside the Junior Rooms.
Schools of Excellence
This year we have applied to be considered as a school of excellence. This is a programme organised by the Education Centre in Enniscorthy for schools who participate in a specific project and programme of work. This years' theme is School Garden. We hope to be accepted as a School of Excellence in the summer term.
Debating
We encourage the boys in the senior rooms to develop their skills of reasoning and oral language through debate. Each year we take part in the Concern Primary School Debating Competition. This year we will host a Primary School Debating Blitz for Carlow Schools.
Table Quiz
Our school has a proud record in the Credit Union Quiz Competition. Each year the boys pit themselves against teams from local schools in the hopes of progressing through to REGIONAL AND national finals.
Hurling
Scoil Phádraig Naofa has a proud tradition of hurling.  The school always participates in the Cumann na mBunscol hurling championship in term three and in the first term we compete in the Cumann na mBunscol indoor championship.  In-school leagues begin in 3rd class and with the support of the Carlow GAA coaching scheme pupils from 1st class to 6th class receive coaching in the fundamentals of the game.  While most of the hurlers go on to compete with the local St. Patrick's Juvenile Hurling Club, hurling in the school is open to all, as the school has its own supply of sliotars, helmets, indoor and outdoor hurls.
As soon as the pupils return after the summer break there is a hurling league for 3rd and 4th classes running at lunch-breaks during September and October.  After Halloween preparation begins for the indoor hurling championship, usually involving 6th and 5th class. March sees the preparation for the outdoor season with training after school.  We also select pupils to compete in the Mini 7s competition, giving them a chance to play in Croke Park during the All Ireland senior championship. An in school league for pupils in 5th and 6th class runs from April – June.
Participation and enjoyment are the main focus of the school but we have also enjoyed success in the Cumann na mBunscol A and B championships, while one of our pupils had the honour of being selected to play at half-time in an All-Ireland hurling semi-final in Croke Park.  Other pupils have represented the school and County at half-time in Carlow Leinster championship fixtures.
Gaelic Football
Every year, we take part in the Cumann na mBunscol division 1 competition in September /October.  We also take part in the Coogan Cup competition in Tinahely in June and in the Clonmore Tournament for 3rd and 4th Class also in June.  Presently, Mick Hade coaches football in the school every week.  He is the link with the local St. Patricks Club.  Mr. Connolly, Mr. O Mhurchú and Ms Murphy look after the football teams.
Soccer
We recently had 3 teams of 8 each taking part in the SPAR Tullow and FAI school's 5s taster session.  We also take part every year in the FAI Interschools Blitz for boys in 5th and 6th class.
Basketball
Every summer term 6th class participate in an inter-school basketball league. The team play 5 matches against other schools in the locality. The top 2 teams in the league then go forward to the final which is held in the Community School in Bagenalstown. We have yet to make it to the final but have always done well and are optimistic that this will be our year.
The team is coached by Ms. Beaton and the boys enjoy it greatly.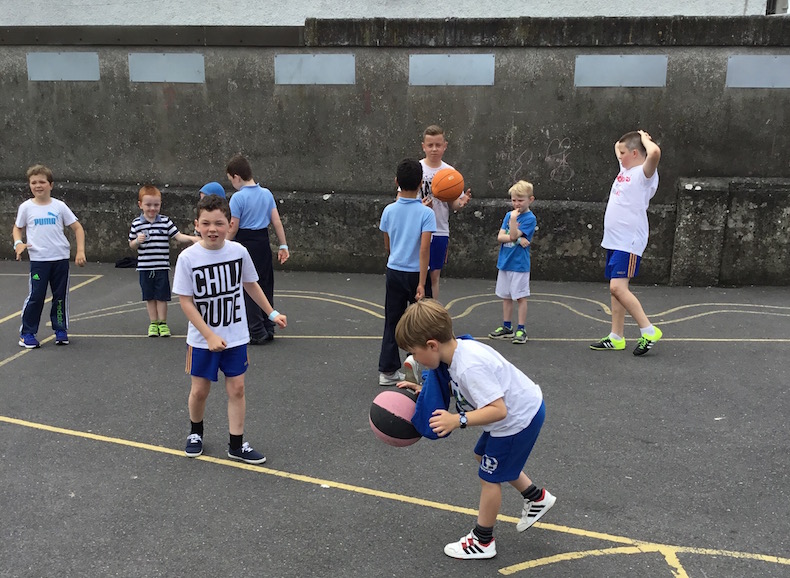 Rugby
The boys in Mr. Fogarty's and Mr Ó Mhurchú's are currently practising their tag rugby skills on Monday evenings with Larry Canavan from Tullow Rugby Club.  The boys thoroughly enjoy the training and they are making great progress.  Perhaps we could be witnessing the development of future Irish Internationals.
Christmas Carol Service /Christmas Plays
Every 2nd year the boys take it in turn to stage either a Carol Service or Christmas Plays.
Each class takes responsibility for their role in each performance either in the Parish Church or Cpt Murphy Memorial Hall.
Sacraments/Parish School Links
Scoil Phádraig Naofa has strong links withTullow Parish. The Parish Team are very supportive of the work we do in school.Fr Andy is school Chaplin and Sr Elizabeth coordinates the sacramental preparation programme each year.
We work in partnership with the Parish Team and Parents to help prepare Catholic boys who wish to celebrate the sacraments of First Penance, First Holy Communion and Confirmation.